Shopping Basket
Your Basket is Empty
There was an error with PayPal
Click here to try again
Thank you for your business!
You should receive an order confirmation from Paypal shortly.
Exit Shopping Basket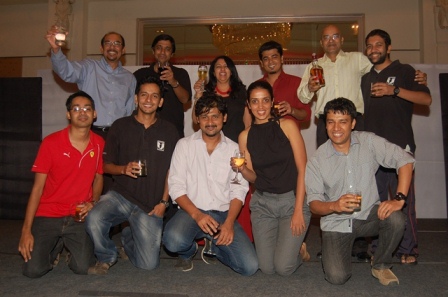 ITC Gardenia, Bangalore.
65 world presidents in one room can be quite a party. We can testify.
Dramanon was at ITC Gardenia on June 7th for a supper theatre performance for WPO (World President's Organization). WPO is a global leadership organization of more than 8,000 business leaders that was established in 1970 with an aim to create a platform to exchange ideas among its members.
But this was a supper theatre performance with a 'twist'. Three enthusiastic WPO organizers wanted to be part of the actual stage performance itself so Dramanon scripted what we call 'preambles' to each of the plays we performed. We wrote short pieces that fit into the original storyline of the actual plays that were to be performed on the evening.
Lakshmi Eshwar played Pam in Fate's Steady Hands where she comes in to warn Richard of Sam's insanity. Lakshmi had the audience in splits with her advice to use a paper weight as a weapon of self defense in case things get out of hand.
Sudhir Kant played a disastrous blind date in 'Sure Thing'. Armed with an afro and a 'Dating for Dummies' handbook he played a crazed Bengali man named Anjon Lahari – who is incidentally a member of the WPO fraternity. The crowd collectively chocked on their drinks when Sudhir introduced himself as 'Anjooon' and unleashed his bad behavior with great enjoyment, while the real Anjon sat red faced in a roaring crowd.
Sameer Inamdar played a senior dentist in 'Surgery', frustrated with his new 'rehabilitated' intern. With a 30 year career of dealing with a lot of dimwits, Sameer was a natural as he stomped the stage, yelling at his intern. Sameer's stellar performance came to an end with the intern knocking him out cold with an inflatable hammer.
This truly fabulous, collaborative idea of involving the WPO members and weaving their characters into the existing scripts was a first for us. And what a great response it got. Everyone from the audience to the performers were witness to the 'other side' of their CEO avatars. The performers got a chance to moonlight as 'professional' actors, get involved in the process of making a play – rehearsals, learning lines, chai sessions and the first rush of being on stage.
Thank you Lakshmi, Sudhir and Sameer for your time, enthusiasm, wonderful hospitality, and above all your support for theatre. We shall keep you posted on our next call for auditions
Categories: None
/